Coefficient of Friction Tester COF-01
Coefficient of Friction Tester COF-01 is for the measurement of static and kinetic coefficients of friction of plastic films, sheets, rubber, paper, paper board, woven and non-woven, fabrics, metal-plastic composite belts for communication cables, convey belts, wood, coatings, brake pads, windshield wipers, shoe materials and tires. By modification, it could be used for many other types of materials and test standards.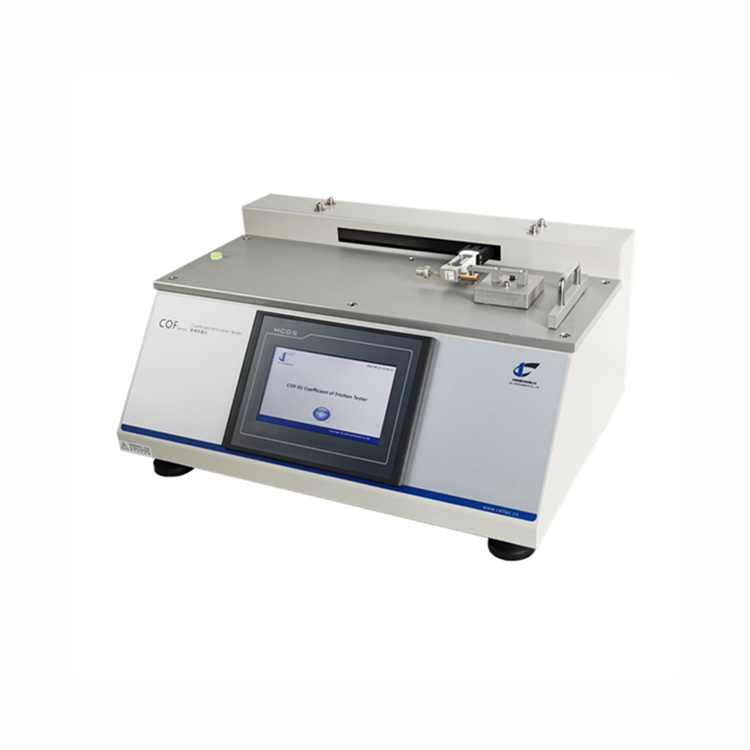 Coefficient of friction is the amount of friction existing between two surfaces. A low value of coefficient of friction means less force is required for sliding to occur. A higher value means more force is required.

Controlling COF is importance in optimizing performance and avoiding problems in forming, transporting, and storing of packages. Static COF
Test Principle
COF is determined by dividing the force needed to move one surface across another by the force perpendicular to the surfaces.

COF-01 Coefficient of friction tester has been helping flexible industry since its inception. It uses PLC control and HMI (human-machine interface) touch screen. The industrial class design ensures its stability and long service life.
1. It uses PLC control units and HMI touch screen.

2. Stepper motor and precision ball lead screw driving mechanism.

3. Real time test curve display, max, min and average test result auto recording.

4. Both static and kinetic coefficient of friction and measured.

5. Comply with multiple test standards.

6. Dot matrix type microprinter embedded.

7. All aluminum test plane.

8. RS232 output and professional software (optional)

9. Support local language display
| | |
| --- | --- |
| Item | Parameters |
| Loadcell | 5 N (or as required) |
| Accuracy | 0.5 F.S. |
| Sled | 200 g (or as required) |
| Sled Size | 63.5mm*63.5mm (or as required) |
| Speed | 100mm/min (ISO), 150mm/min (ASTM) |
| Control | PLC and HMI touch screen |
| Output | Screen, microprinter, RS 232(optional) |
| Power | 110~220V |
GB 10006, TAPPI T816
ISO 8295: Plastics — Film and sheeting — Determination of the coefficients of friction
ASTM D1894-14 Standard Test Method for Static and Kinetic Coefficients of Friction of Plastic Film and Sheeting
cleaning cloth/mop cloth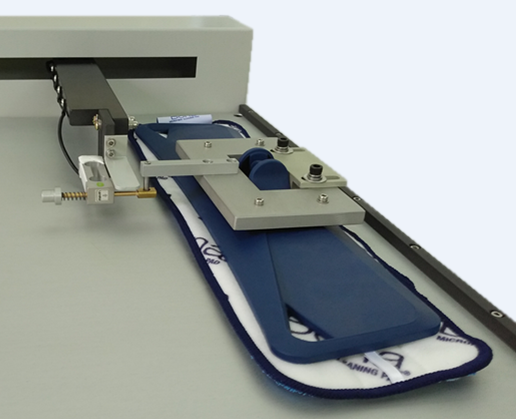 ASTM D5458 Standard Test Method for Peel Cling of Stretch Wrap