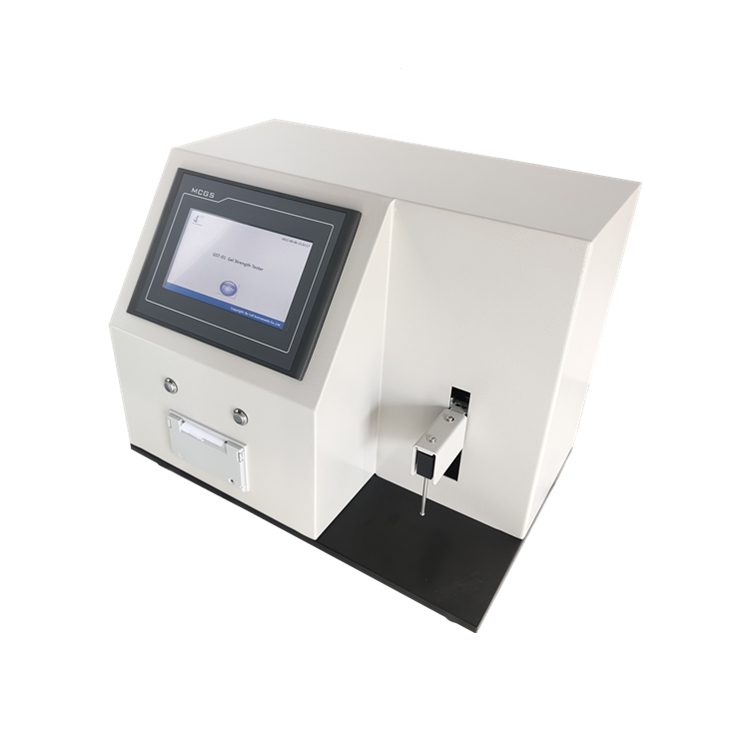 The gel strength test was originated from surimi industry. In the test, a punch probe of a specific diameter and length is used to compress the surface of a gel specimen at a constant deformation rate, until puncture occurs. Normally the speed used is 60mm/min and probe φ5mm.
Gel strength is based on force×distance, thus having a unit of "gcm".
Test Principle
A punch probe with diameter of 5mm is driven by gel strength tester at a speed of 60mm/min, to compress the surface of a gel specimen. The force max during the process and the displacement is measured and recorded.
GST-01 Gel Strength Tester is a PLC controlled unit(industrial level stable) and HMI touch screen operated. Precision ball lead screw mechanism ensures good and steady speed and displacement control. Its specially designed program can be used for different parameters concerning gel strength test.
1. 7 inch HMI touch screen
2. PLC control unit inside
3. Precision ball lead screw
4. Adjustable test speed
5. Multiple fixtures available for other texture analysis
6. Safety is our concern : Travel limit protection; automatic returning ; loadcell protection cover
​7. Multiple test items of WEIGHT, PEAK, DISTANCE are available.
8. Dot matrix type microprinter equipped
| | |
| --- | --- |
| Item | Parameters |
| Test Range | 0~50N (or as required) |
| Stroke | 110mm (without probe) |
| Test Speed | 1~100mm/min |
| Accuracy | 0.01mm |
| Force Accuracy | 0.5% F.S. |
| Control | PLC and HMI touch screen |
| Output | Screen, microprinter, RS 232(optional) |
| Power | 110~220V |
WEIGHT: To measure distance at a certain load
PEAK: To measure gel strength
DISTANCE: To measure load at a certain distance
Other type of texture analysis