BST-01 Ampoule Breaking Tester
Ampoules are commonly used to contain pharmaceuticals and they are hermetically sealed by melting the thin top with an open flame, and usually opened by snapping off the neck. The proper breaking force of the neck is crucial for both the pharmaceutical safety and clinical application.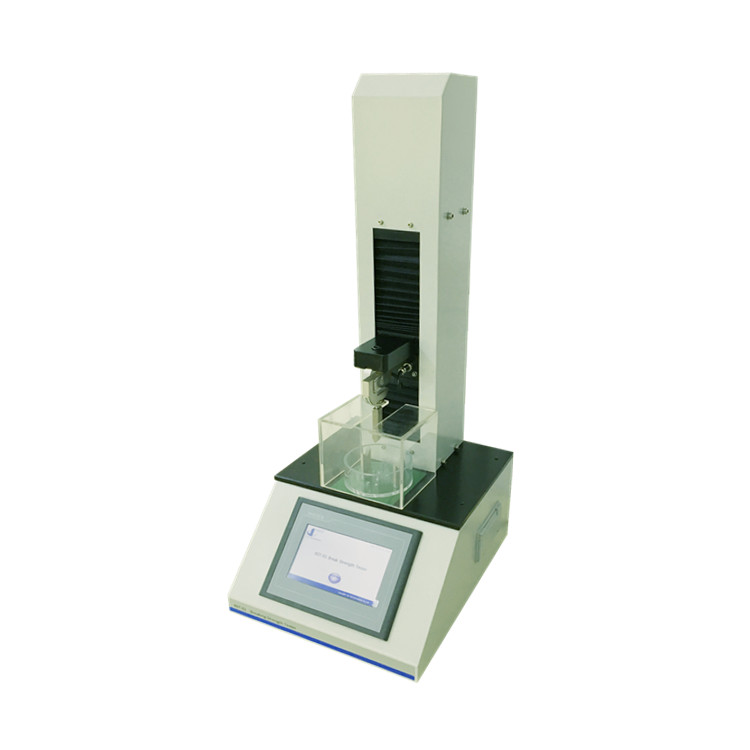 Ampoule Breaking Strength Tester can be used to have the quantitative test of ampoule breaking strength.

Test Principle
An ampoule sample is place on the fixtures and the pressing head is driven down by the power system at the speed of 10 mm/m. The breaking strength is detected by the high precision load cell when the pressing head touches ampoule neck and breaks it.

BST-01 ampoule breaking tester is more than this application. It is a compression device with constant rate of displacement, with industrial level stability. Other usage can also be applied in pharmaceutical and medical sector, such as compression, cap opening, syringe gliding force, puncture, stopper penetration etc.
Key features include it's PLC control unit and HMI touch screen. The use of stepper motor and precision ball-lead screw realized accurate speed setting.
Safety is one concern of performing ampoule breaking test. We provide broken sample collecting tube and a protection cover for jumping sample.
Other features are listed below.
Different specifications of 1ml, 2ml, 5ml, 10ml, 20ml capacity test fixtures
Multiple fixtures available for other material tests used in medical packaging
Limiting device and automatic returning function
Test speed is adjustable
Microprinter for easy data output
Protection cover offered
RS 232 and professional software (optional)
| | |
| --- | --- |
| Item | Parameters |
| Loadcell | 200 N (or as required) |
| Accuracy | 0.5 F.S. |
| Speed | 0~500mm/min (10mm/min for ampoule) |
| Control | PLC and HMI touch screen |
| Output | Screen, microprinter, RS 232(optional) |
| Power | 110~220V |
ISO 9187 Injection equipment for medical use - Part 1: Ampoules for injectables
GB/T 2637, YBB00332002