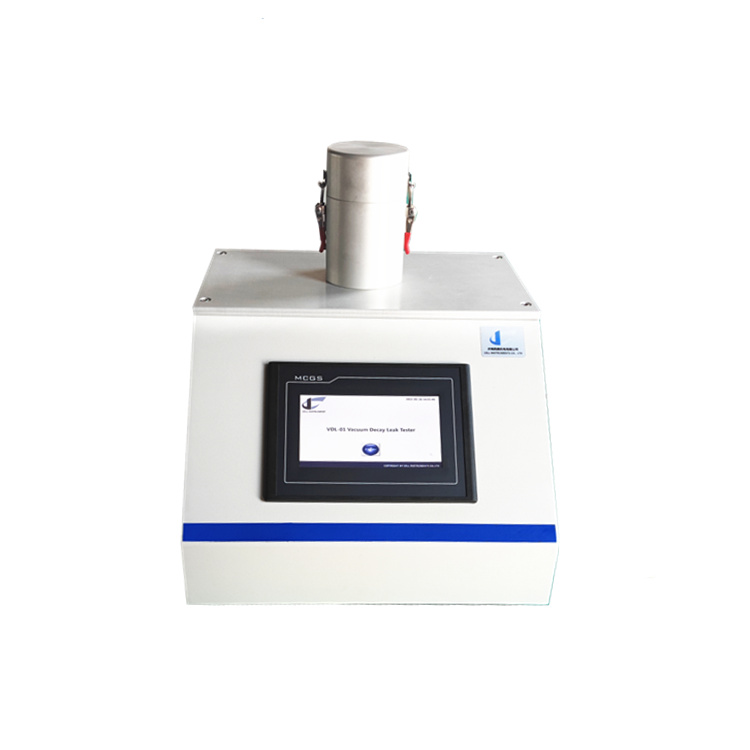 MLT-01 is a vacuum decay method leak tester that can evaluate an overall performance of a sealed package form. It's a non-destructive testing method that measures the pressure change between sample it's sourrounding environment(sample chamber).
Test Principle
It follows ASTM F2338 and can be used to identify gross and micron leaks in packaging for food, pharmaceutical and medical devices, etc. Configuration of test range varies based on sample type and leak rate.
● Vacuum upto 1pa and resolution 1μm~3μm
● Free setting of vacuum time, balance time and test time.
● Fulfill USP requirement
● Industrial level stability in control and display
| | |
| --- | --- |
| Item | Parameters |
| Test Range | To 1pa(depending on user pump) |
| Sensitivity | 1~3μm |
| Chamber size | made upon demand |
| Vacuum pump | Prepared by user |
| Control | PLC and HMI touch screen |
| Output | Screen, RS 232(optional) |
| Power | 110~220V |
1.It's sensitive enough to detect very small leaks

2.Determines a leak rate

3.Simple and highly effective way

4.Its major steps in testing involves are, Fill, Settle and Test.
chamber size and shape, sensitivity