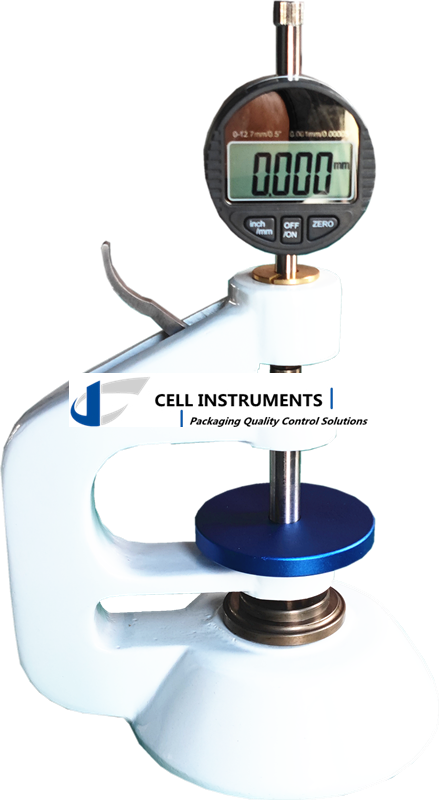 Thickness is an important property of tissue paper and tissue products.
In the tissue industry, thickness-related parameters, such as the roll diameter of rolled products (kitchen towel)
or the stack height of folded products (paper towels) are often measured. However, the fact that not only
end-use tissue products, but also the base tissue paper from which these products are made, is the subject of
trade between companies and countries, means that there is a genuine need for a consistent measure of
thickness that can be applied to tissue products at any stage of their manufacture.
The thickness of tissue paper and tissue products is known to be dependent on the pressure applied to the
material at the time of measurement. Several different loading pressures, pressure-foot diameters and loading
speeds have been used within the tissue industry.
THD-01 Tissue thickness tester is mainly used for tissue paper product thickness measurement. It can complete the single-layer, sheet and lamination thickness measurement. Other products like paper handkerchiefs, paper towels, napkins, kitchen roll paper are also its applications.
THD-01 Tissue thickness tester has two parallel, horizontal faces, flat to within 0,001 mm, between which the test piece is placed. The lower face is fixed and the upper face (pressure-foot) moveable in a direction perpendicular to the plane of the fixed face.
The upper, circular, pressure-foot has a nominal area of 10,0 cm² and is parallel to the lower face within 0.001mm.
The lower face supports the test piece, such that the test piece lies flat whilst under test.
The pressure between the two faces shall be (2,0 ±0,1) kPa .
● Zeroing at any position to facilitate differential measurement
● With ON/OFF switch key, or automatic power off
● Measurement unit can be converted between mm and in
| | |
| --- | --- |
| Item | Parameters |
| Test Range | 0~5 mm |
| Resolution | 0.001 mm |
| Contacting Pressure | 2±0.1KPa |
| Contact Area | 1000±20mm² |
| Face Parallelism | ≤0.001mm |
GT/T 24328.2 Tissue paper and tissue products—Part 2:Determination of thickness, bulking thickness and apparent bulk density and bulk.
ISO 12625-3 Tissue paper and tissue products —Part 3: Determination of thickness,bulking thickness and apparent bulk density
Other measure head and pressure